What English will and probate solicitors should know
If an English testator owns assets in Germany, or if they decide to gift all or part or their estate to someone resident in Germany, a "standard" English will does not adequately cover all the client's needs. Foreign IHT consequences, for example, are often completely ignored, as is the fact that German law does neither know the concept of "personal representative", nor does it recognise trusts. Standard Common Law estate planning techniques are thus likely to cause uncertainties, higher costs, longer probate proceedings and may even produce unintended results with regards to the distribution of the estate.
German lawyer Bernhard Schmeilzl, co-founder of the German law boutique www.graflegal.com, specialises in UK-German probate and estate administration since 2000.
In their 25 March issue, the NEW LAW JOURNAL has published this article in which Bernhard runs through some typical problems and costly mistakes when dealing with probate cases involving the UK & Germany. He highlights 11 common issues when drafting a will or applying for probate when the estate in question involves both UK and German considerations.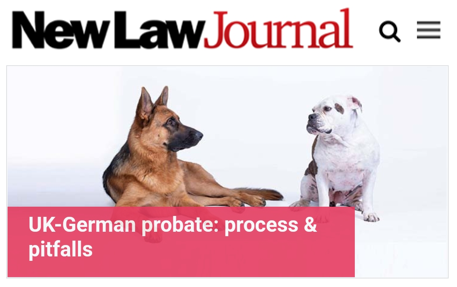 Download the full article here:
Profession_Wills & probate_Schmeilzl_25 March 2022
– – – – –
The law firm Graf & Partners and its German-English litigation department was established in 2003 and has many years of experience with British-German and US-German probate matters, including the representation of clients in contentious probate matters. If you wish us to advise or represent you in a German or cross border inheritance case please contact German solicitor Bernhard Schmeilzl, LL.M. (Leicester) at +49 941 463 7070.
Visit our youtube channel
More on succession law and German probate in these posts: