As a full service German and English law firm, established in 2003, and the editors of the expert blog on German civil procedure rules we are often asked to provide English Law Firms with an expert report based on issues of German Law.
Bernhard Schmeilzl, a bilingual Lawyer who qualified in 2001 (admitted to the Munich Bar) and is able to provide expert reports to be used in English litigation and arbitration cases based on various issues of German law, whether it be Civil, Commercial or Criminal law, including procedural aspects . Not only does he have a very good grasp of the English Civil Procedure Rules on expert reports, but he also has a vast experience of working closely with Solicitors and Barristers within England. Bernhard has prepared reports for all types of law firms in England, from Magic Circle firms to regional firms, including the following areas:
Corporate and commercial law disputes between British and German businesses;
Contentious probate matters around the validity of German wills;
Accidents involving British citizens in Germany (personal injury, tort); and
Medical malpractice cases involving German GP's and hospitals
In case you need an expert report from a German Solicitor please do not hesitate to call us on +49 (0) 463 7070.
For more on civil litigation and evidence rules in German Courts of law and before German arbitration tribunals: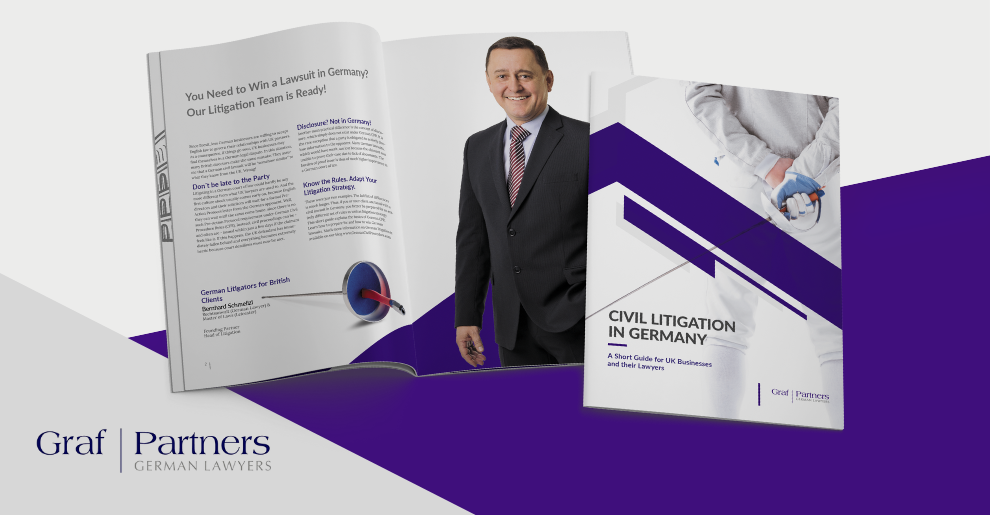 For the US version of the Guide please go here:
Visit our expert blog on German litigation for much more information
The law firm Graf & Partners was established in 2003 and has many years of experience with British-German and US-German legal matters.The Anglo-German litigation lawyer team of  Graf Legal is well equipped to advise and represent clients from the UK and other English speaking countries. If you wish us to advise or represent you in a German or cross border case, or if you need an expert report on German law, please contact German lawyer Bernhard Schmeilzl, LL.M. (Leicester), managing partner and head of the litigation department. Bernhard is also frequently asked by British and US Courts and Tribunals or by legal counsels to provide expert reports and legal opinions on German law.