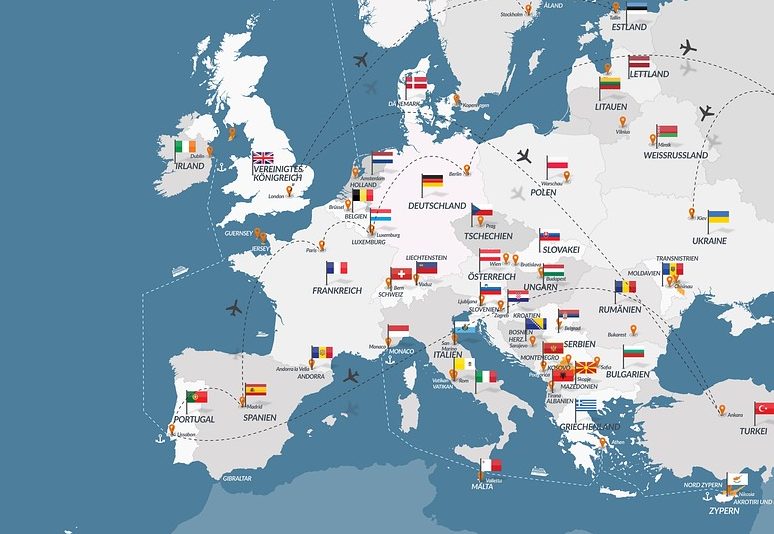 Is a USA Grant of Probate valid in Europe?
No, it is not. If a US citizen who passed away has owned assets in Europe, then the US executor (or their US probate lawyer dealing with this international estate) will have to obtain separate grants of probate (or letters of administration) in each and every European country where the decedent held assets. A grant issued by a U.S. probate court is of no use in Europe (just as a German, Austrian, English etc grant is useless in the USA). Simply resealing a USA grant is also not an option. Instead, the executor must go through the entire probate process of the respective European country.
Exception: The Decedent was domiciled in Europe prior to his/her Death
There is one exception to that rule: If the deceased had his or her "habitual residence" in an EU country prior to his or her death, there is the chance of taking out a single universal EU grant of probate (European Certificate of Succession) which will then be accepted within the entire European Union (except for the United Kingdom, Ireland and Denmark where you still have to take out separate grants). This option is, however, rarely available and thus the exception in such international cases. In most cases, the deceased United States citizen was domiciled outside of Europe and therefore the executor of their estate will have to apply for a grant of probate in every EU country where the USA based decedent had owned assets.
Do I need to hire a separate probate law firm in each European country?
No, you don't. Graf Legal specializes in such international probate matters since the firm was established in 2003. We obtain grants on behalf of U.S. beneficiaries, executors and U.S. probate lawyers in the following countries:
Germany (more)
Austria (more)
Switzerland (more)
the United Kingdom (i.e. England, Wales, Scotland and Northern Ireland)
the Channel Islands
In many other countries, for example France, Spain, Netherlands, Luxembourg and Liechtenstein, we have established ties to specialised estate lawyers who are also fluent in English.
What exactly do our international probate lawyers help with?
The probate procedure in the various European countries is very different and some countries apply forced heirship rules which may create unexpected complications. Our international probate experts in Germany, Austria, Switzerland and Britain will guide you through the process, inform you about possible obstacles in advance and save you months of running around in circles. We explain to you in plain English what needs to be done in each European country, we prepare the probate application documents as well as the inheritance tax (estate tax) paperwork for the various EU countries. Finally, we correspond with banks, land registries, debtors and creditors. If the clients wishes us to do so, we collect the European monies on a protected escrow account and will transfer your inheritance to the USA in one sum, instead of having each bank, insurer and debtor make their individual transfer to the USA, thus creating significant international transaction costs. If the US executors want us to sell European real estate, we will recommend and supervise valuers and estate agents, will draft and negotiate the sale documents and will execute the sale on your behalf.
Since our firm was established in 2003, our German and British probate lawyers have successfully dealt with hundreds of cross-border inheritance cases, some of them highly complex, either because a European will was contested by a next of kin or because the international estate tax situation was unclear. Or both.
So, if you are an heir, beneficiary, executor or probate attorney in the USA dealing with an international probate case involving assets in European countries, give us a call for an initial consultation.
Graf Legal – international probate experts for USA executors and their lawyers. We do this all the time!
The Anglo-German law firm Graf & Partners and its German-English litigation department GP Chambers was established in 2003 and has many years of experience with British-German and US-German probate and tax matters, including the representation of clients in contentious probate matters. We are experts in international succession matters, probate and inheritance law. If you wish us to advise or represent you in a German or cross border inheritance case please contact German solicitor Bernhard Schmeilzl, LL.M. (Leicester) at +49 941 463 7070.